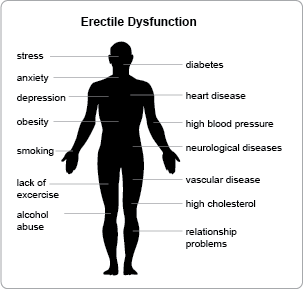 Dr. Ridwan Shabsigh has dedicated his life to the research, teaching, and clinical practice of sexual health. His practice has helped countless men discover the cause of erectile dysfunction and treat it successfully. Knowing that there is usually never just one cause of erectile dysfunction he treats a variety of causes successfully. Dr. Shabsigh refuses to accept the conventional school of thought that loss of sexual function and enjoyment is a just another consequence of aging.


Causes of Erectile Dysfunction (ED)

Often abbreviated as ED, erectile dysfunction is a consistent or reoccurring inability to obtain or maintain an erection satisfactory for sexual performance. It affects an estimated 30 million men in the United States. Erectile dysfunction is occurs frequently in men with diabetes, high blood pressure, high cholesterol, heart disease, vascular disease, neurological diseases and other major illnesses and disorders.
Psychological factors include stress, anxiety, depression and relationship problems. Lifestyle risk factors include obesity, lack of physical activity, smoking and excessive alcohol consumption. Other contributing factors include various prescribed medications. Studies have shown that men who suffer from erectile dysfunction were twice as likely to have diabetes as compared to healthy, unaffected men.



Erectile Dysfunction (ED) and Other Health Risks

Research has shown recently that erectile dysfunction can be an early warning symptom of important diabetes and cardiovascular problems. Erectile dysfunction predicts and precedes the metabolic syndrome several years in advances. Similarly erectile dysfunction predicts and precedes a heart attack 3 years in advance. Such new information affords a great warning for middle aged men to go to the doctor and get the appropriate evaluation. Furthermore, sexual health becomes the portal to men's health motivating men to pursue healthy lifestyle such as weight control, physical exercise, quitting smoking and controlling alcohol.
Preventing Erectile Dysfunction (ED)
The metabolic syndrome (abdominal obesity, insulin resistance (or diabetes), abnormal lipids (high cholesterol), and high blood pressure) can greatly increase the risk of developing erectile dysfunction. Therefore it is important to control weight and exercise several times per week to lower body fat and total cholesterol. Other recommendations include avoiding smoking and excessive alcohol consumption.
"Patients are often surprised by how much control they can have over their bodies," says Dr. Shabsigh. "Every drag on a cigarette is a drag on sexual performance. Excess pounds strain sexual health. Are you getting the proper sexual nutrition? Is your life too busy for exercise?!" Overlooked lifestyle factors that affect sexual enjoyment may include personal hygiene, work pressures, and sleep. Dr. Shabsigh's writings offers clinically proven approaches for every lifestyle issue.
Many men who suffer from erectile dysfunction assume it will go away on its own, and many older men accept it as part of aging, but neither notion is true. Erectile dysfunction is very treatable, yet only 30% of men with erectile dysfunction actually seek medical attention. However, studies indicate that an overwhelming percentage of those who have erectile dysfunction would actually like to receive treatment.
Erectile dysfunction can also be attributed to stress stemming from every day life situations such job, finances or the pressures of home and family life. Obsessing over the problem and becoming overly concerned about the condition can exacerbate erectile dysfunction. Psychological interventions such as communication with your partner, outdoor activity, long walks, and peaceful meditation or massages can be helpful.
Dr. Shabsigh believes that "we live in a world of 'fast-food' approaches to everything, but when it comes to sexual health, we shouldn't rely on quick fixes. If arteries are becoming occluded, there are a lot more than erections at stake". His treatment plans contain remedies for sexual dysfunction, and addresses other health issues such as weight loss, smoking cessation, stress reduction, glucose management, blood pressure control, and hormone balancing. Patients come to Dr. Shabsigh in search of better sex, but instead discover better health.