Surgery for urethral stricture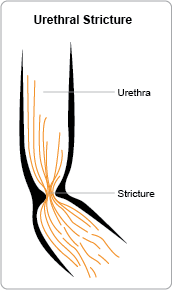 A stricture is a narrowing in the urethra associated with scar tissue, commonly caused by prior urethral surgeries, injuries, pelvic fracture, sexually transmitted disease and others. There are a variety of treatments for a urethral stricture, and most depend on the severity of the stricture and the location of the stricture in the urethra. A thin tube-like object, called a dilator may be inserted while the patient is under local or general anesthesia, and this may dilate the urethra enough to allow urine to flow through. This may be adequate if the stricture is mild and simple. In other cases, if the stricture is short in length and not proximal to the urinary sphincter muscle, the patient may be a candidate for an endoscopic procedure call "direct vision internal urethrotomy". This is performed by making a cut in the stricture using cystoscopy. However, if a patient has a much more severe urethral stricture, a more definitive surgery called "urethroplasty" might be necessary. During this procedure, the damaged or diseased tissue is removed and the urethra is reconnected.  In some cases, the stricture area of the urethra may be replaced with other tissue. Such procedures may be done as an outpatient in a surgi-center or with an overnight stay in a hospital. The complications may include bleeding, infection, fistula and recurrence of the stricture.


Men with urethral strictures may inquire about surgery for urethral stricture by contacting us at +1 212-249-6060 or by email to schedule an initial evaluation.