Ridwan Shabsigh, MD, FACS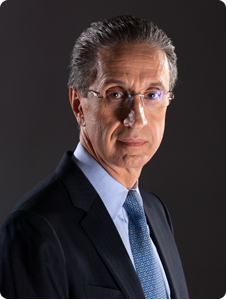 Chairman, Department of Surgery, St. Barnabas Hospital (SBH), Bronx; and professor of clinical urology, Weill-Cornell School of Medicine of Cornell University, New York, USA.
Dr. Ridwan Shabsigh received his medical degree from Damascus University Medical School in Syria and did his urology residency training in Germany and the USA. He completed a residency in urology and a fellowship in sexual medicine, urinary incontinence, and urologic prostheses at Baylor College of Medicine in Houston, Texas. Prior to joining St. Barnabas Hospital, he worked as a urologist and a faculty member at the department of urology of Columbia University and subsequently as director of urology at Maimonides Medical Center in Brooklyn, New York.
Dr. Ridwan Shabsigh is a Diplomate of the American Board of Urology and a Fellow of the American College of Surgeons. He is an active member of several professional societies. Currently he is the president of the International Society of Men's Health
www.ismh.org
, the co-chairman of the International Consultation of Men's Health and Infertility
www.ICUD-MHI.org
and the vice president of the Foundation for Men's Health
www.foundationformenshealth.org
.
As a leader in sexual medicine, urology and men's health, Dr. Ridwan Shabsigh has focused his practice on men's health issues, offering services in comprehensive men's health maintenance, counselling of patients newly diagnosed with prostate cancer, penile prosthesis surgery, medical and surgical treatments for Peyronie's disease, treatments for urinary incontinence including the artificial urinary sphincter and the male sling and surgical treatments for urethral strictures. In addition to his New York practice, he offers telemedicine consultations (website coming soon).

In research, he has participated in numerous clinical trials on new drugs and devices for the treatment of sexual dysfunctions, Peyronie's disease, testosterone therapy and benign prostatic hyperplasia. He is a frequent contributor to the medical press and has authored numerous original papers, review articles, book chapters and editorials in journals such as the New England Journal of Medicine, Lancet, British Medical Journal, Journal of Urology and the Journal of Men's Health. He published a comprehensive patient education book on the link of sexual health with overall health: Sensational Sex in 7 Easy Steps: The Proven Plan for Enhancing Your Sexual Function and Achieving Optimum Health. His website includes a web-TV health show, the "Dr Ridwan Show, Health Information You Can Use" at
www.DrRidwan.com
.